This entry has nothing to do with math.
Nor philosophy.
Nor theology, nor music.
Nor world religions.
In fact, it doesn't have to do with much of anything except a funny comment made by Tim H. on Facebook in response to one of my postings on my secret identities or deep personality structures. I wanted to respond to him with a funny cartoon that I thought Gary Larson had drawn in his famous "Far Side" series. I never did find it. It was a picture of a van, which was nicely labelled "Witness Protection Program" on its side and, if I recall correctly, the vehicle was being attacked by some mobsters. The driver was shocked that they had been identified--or something like it. Maybe it was not Larson's. It could also have been been in the Atlantic.
Anyway, in the process of looking for that one cartoon, I wound scrolling through a few hundred cartoons and pictures, and, if you should see me over the next 24 hours or so, and I suddenly break out laughing, it'll probably be because I just remembered one of them. Well, it occurred to me that, even though I didn't find the one I had been looking for, some of the others were just as good and definitely worth sharing as a blog piece. Kind of a break from my recent fare. So here goes. Enjoy. Rejoice with me that maybe, since the last couple of years more or less, my blog won't give you a headache. The pictures are all "click-throughs" to the websites on which I found them, but any owners or originators who wish that I remove their creations will find me pleasantly agreeable. 
Witness Protection Cartoons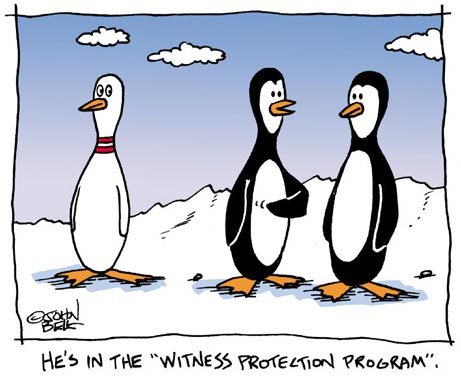 Until next time!