Considering yesterday's worries, it was not a bad day today. I took various precautions and, by the Lord's grace, the headache knocked on the door all day, but never really emerged. So, even though I was definitely not at my best (whatever that could be these days), I was still mountains better than yesterday or the day before or the day before that. Thanks for your prayers.
June and I spent the afternoon just hanging around at Seth's. When Amber returned from an agility show with the whippets, and after S & A had finished the evening doggie chores, we went to the new Indian restaurant in Muncie for supper. June really liked the place. I had chicken briyani, and it was fairly good. It reminded me of some that I had in Delhi, which, in all honesty, does not come up to the standards of briyani in Hyderabad. So, right now it's sitting on 4 stars out of 5 with me after the first trial, but it has the potential of working its way up because you can be sure that it will receive quite a bit of business from us. All in all, then, a day worth being thankful for.
This is definitely not the last entry on "Understanding Hegel. " The faucet is flowing and, as long as in my estimation the water is potable (no, that does not mean you can carry it), I can't bring myself to shut it off, and I think I will be able to judge when I'm scraping too much to continue with Hegel. I may intersperse some other topics again before finishing with Hegel.
*****
There has been no shortage of criticisms of Hegel as a pantheist, but, given my understanding of pantheism, it seems to me that they miss the mark. Hegel's view can perhaps best be characterized as a panentheism, the view that God and the world are contained within each other. "Pantheism," in its more precise definition, means that God (or whatever is considered to be the Absoute) and the universe are identical; the words "God" and, say, "world" are just different ways of referring to one entity. But for Hegel, the contributions made by the lowliest of finite entities in the universe are just as important to the system as the Absolute, and thus, have the same degree of reality as the Absolute. Insofar as it makes sense to speak of "existence" in the context of a transcendental, rather than metaphysical, system, both God and the finite world have their own existence. Still, since the system is one large circle of interdependence, they cannot exist apart from each other. Hence, "transcendental panentheism" seems to be the most accurate characterization of Hegel's system.
Absolute Spirit, as the ultimate transcendental category that makes knowledge possible and certain, is simply not identical with the world. For Hegel, as we saw in conjunction with his logic, being in its purest form is indistinguishable from nonbeing, and thus, identity-in-being is always identity-in-becoming. The Absolute contains the world, but it cannot be said that the world is the Absolute or vice versa The transcendental process establishes a relationship of mutual containment, but it does not infringe on the distinctiveness of either contributing party, God or the world.
Nor does it make a lot of sense to call Hegel an atheist in the most common understanding of the term, namely as someone who rejects the existence of any God or Supreme Being whatsoever. To be sure, there is another way of using the term "atheist," namely literally as the denial of classical or biblical theism, so that it stands for a- theism in that specific sense. Cornelio Fabro has built his masterpiece, God in Exile: Modern Atheism, around that latter definition. He defines atheism as the "displacement of transcendence by immanence," and, given that definition, Hegel fits the category perfectly. Think about it: A "transcendental" idealism, viz. one that locates the content of knowledge in the mind by transcendental deduction, is paradoxically the epitome of an immanentist philosophy. Nevertheless, even though I thoroughly endorse many of Fabro's work and conclusions, there is also often a need for greater specificity as to the nature of a non-theistic world view, and then "panentheism" is more appropriate than "pantheism."
Having now insisted that Hegel was neither a pantheist nor an atheist, let me now tell you that about ten years after Hegel's death, in 1841, there appeared a scathing critique of Hegel entitled, The Trumpet of the Last Judgment on Hegel the Atheist and Pantheist.
Woops! ---- Did I miss something, or did the author of the book, whose identity was not known at first, get things all wrong?
This short book attempted to demonstrate that Hegel's philosophy was thoroughly anti-God, anti-religion, and anti- establishment by going through Hegel's system point-by-point. The philosophical reading public, those who agreed with the diatribe as well as those who did not, at first interpreted it as a sharp rebuke of Hegel, and a denunciation of all of Hegel's followers who blindly attempted to understand Hegel in a more conservative fashion.
The Trumpet is a good representation of the fact that Hegel's followers after his death had divided into two camps, the "Right Wing Hegelians" and the "Left Wing Hegelians." The termininology is due to David Strauss the well-known biographer of someone he called "Jesus."

, though you or I might not recognize him in his writings. The Right Wing Hegelians were those who interpreted Hegel as supporting theism and a basic Christian orthodoxy, even if it was expressed in flamboyant philosophical terminology. Left Wing Hegelians, who are by far the better known of the two groups, claimed that Hegel, in fact, advocated a philosophical system which demonstrated that theology had been overcome, and that, consequently, Hegel's philosophy is ultimately atheistic. The Left Wing Hegelians, such as Ludwig Feuerbach (1804 -1872) and Karl Marx (1818-1883) then sought to extend this atheism further.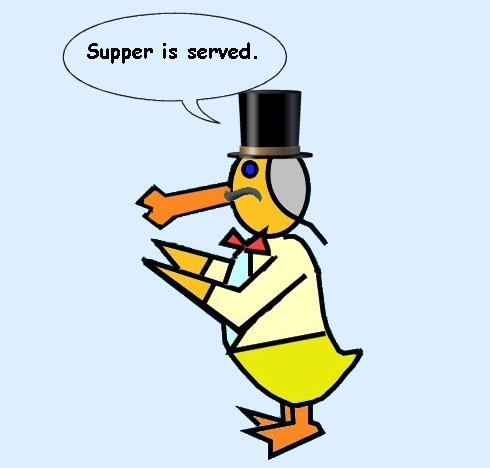 As a matter of historical fact, there should be little question as to which side of this posthumous debate Hegel himself would have defended because he already expressed his point of view without equivocation during his life time. A theologian named Karl Friedrich Goeschel (1784-1861) lived in Berlin at the same time as Hegel, and even though they were mutually supportive of each other, they never met in person, most likely because Hegel spent much of his last year (1830-31) outside of Berlin, trying to evade the cholera epidemic, to which he eventually succumbed anyway when he returned too early. Goeschel wrote a book called Aphorismen über Nichtwissen und Absolutes Wissen, this title being traditionally translated as Aphorisms on Ignorance and Absolute Knowing, which is technically accurate, but totally takes the fun out of it. The spirit of the piece as well as its title would be far better captured with something along the line of "Aphorisms on those who know nothing and those who think they know everything." [Help! I'm beginning to think I'm Walter Kaufmann again!.] In this book, Goeschel writes from a Right Wing Hegelian perspective against the Left Wing Hegelians. Among his points is that the pronouncements of the Left Wing Hegelians are frequently entirely tautological or platitudinous, so that, after someone has expressed them, there is nothing left to say other than perhaps, "Supper is served,"

or some similar inanity so as to break the awkward silence. Goeschel is considered by many to be the ultimate instantiation of a Right Wing Hegelian. And thus we come to the point: In 1830 Hegel published a review of Goeschel's book, in which he thoroughly endorsed Goeschel's perspective. Hegel considered himself to be an orthodox Lutheran and, as odd as it might sound to some, we would have to count him among the Right Wing Hegelians.
I just found some excellent corroboration for this fact, which I have defended for a long time, as narrated in footnote

. However, I was ignorant of this piece of information which I found by running across an outstanding blog. Its author is one Daniel Lindquist, about whom I know nothing except what he declares about himself on his site. His blog gives me a little bit of an eerie sense, though, because I almost feel as though I'm looking into a mirror by the way he expresses himself, such as the somewhat humorous self-depracatory tone and the freedom to say what needs to be said. For example, in the same entry he labels J. N. Findlay as a "theosophical nutcase." Nicely put, though perhaps a little redundant. I would consider this to be an objective assessment, helpful to understanding Findlay's thought.

Anyway, the obviously brilliant Mr. Lindquist referred to the book Hegel and the Hermetic Tradition by Glenn Magee. Those of you who have followed this series and click on the link will recognize from the first page on that the book is bilge, and I can't help but wonder whether Cornell University Press has ever considered using peer reviews prior to publication. Be that as it may, Lindquist, quite aware of the book's shortcomings, states that in the introduction, in a footnote, Magee quotes from Hegel's letters. I'll just reproduce this entire segment of Lindquist's entry.
In the introduction, in a footnote, Magee quotes from Hegel's letters. I'll just reproduce the entire footnote:

In a July 3, 1826, letter to Friedrich August Gottreu Tholuck (1799- 1877), Hegel writes, "I am a Lutheran, and through philosophy have been at once completely confirmed in Lutheranism." See Hegel: The Letters, trans. Clark Butler and Christianne Seiler [citation details omitted]. In 1826 a small controversy erupted in Berlin when a priest attending Hegel's lectures complained to the government about allegedly anti-Catholic statements made by Hegel. Hegel responded: "Should suit be filed because of remarks I have made from the podium before Catholic students causing them annoyance, they would have to blame only themselves for attending philosophical lectures at a Protestant university under a professor who prides himself on having been baptized and raised a Lutheran, which he still is and shall remain."

Pro Tip: Don't respond like this when someone threatens to take you to court for being a bigot.
I'm not sure about the "pro-tip;" it all depends on what you have said and what they mean by "bigot." But we can come back to that point on some other day. Lindquist's conclusion concerning the debate on Hegel's own position is not surprising, given the fact that the evidence is unequivocal:
It's become clear to me that many of Hegel's interpreters simply want him to not be a Lutheran. For if they regard themselves as Hegelians, they don't want to be seen as endorsing Christianity (or religion generally -- certainly not any sort of orthodox Protestantism); if they regard themselves as anti-Hegelians, they don't want to be seen as opposing Christian thought.
Excellent work, Mr. Lindquist! Hegel thought of himself as in line with what later became Right Wing Hegelianism, though without the label, and (Karl Rahner and C. S. Lewis notwithstanding) I don't think that it is possible for a person to be mistaken about the content of his beliefs, though one can be mistaken about the label of what one believes.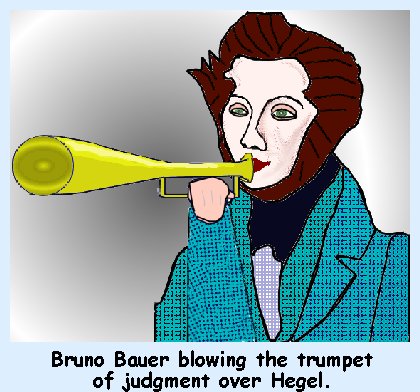 But now, the question of what's up with the "Trumpet of Judgment over Hegel" becomes even more urgent. Did Hegel express a philosophical system of which he himself was ignorant? As we just said, that shot is not on the board. I need to add that one could be mistaken about the further implications of what one believes, but to use that maneuver to declare that a person does not believe what he thinks he believes, as opposed to his simply being inconsistent, is highly precarious and should best be attempted only by highly trained Freudians or professional mind readers. But then, why take him to task for something that he himself abjured? Why accuse him of an unacceptable line of thought when, on his own testimony, that was not his line of thought?
Well, Lindquist has given us a good leg up in trying to understand what may have been the case. He stated in so many words that depicting Hegel as non-Christian or non-theist has served frequently as a legitimation for one's own point of view, either by claiming him and, thereby distancing oneself from Christianity, or by renouncing him so that one's affinity to Christianity is immune from being tainted by Hegel's philosophy.
If there is a weakness in this deontic constructive dilemma, it is that it only works on the assumption that "Right Wing Hegelians," such as Goeschel, who appealed to Hegel in their support of Christianity, have had a negligible effect on how Hegel has been interpreted later on. Like it or not, that assumption did become a fact of history. So, one could be tempted to stop here and say that the "Trumpet" is one of the first instances of interpreting Hegel in a particular way guided by the desire to promote one's philosophical preference. Specifically, then, here we would have an anonymous theistic writer vituperating Hegel in order to clarify to the world that his own philosophy is free of Hegelian encroachments.
However, that line of thought, though a good appraisal of what happened in the course of the history of philosophy after Hegel, cannot apply to a point in time that close to Hegel's death. After all, there are Goeschel and his fellow Right Wing Hegelians. They are visibly alive and they are appealing to Hegel in favor of their conservative Christian views. They certainly did not denounce Hegel as pantheist or atheist, and their work, even if not convincing to non-Hegelian conservatives, would at least demonstrate that there is no logical necessity to divorce Hegel from Christianity.
So, let's think creatively here for a moment. The following idea may strike you as improbable and implausible, but, what if the "Trumpet" had actually been written by a Left Wing Hegelian? Then it would be a satire on the Right Wing and might even be used in support of the Left Wing view. Too far-fetched, you say? As a matter of fact, this highly unusual scenario appears to be what actually took place. I mentioned that the author of this pamphlet was at first unknown, but it came out eventually that it was written by a theology professor named Bruno Bauer (1809-1882) in Bonn, the beloved city of my earlier youth, together with his protegé, Karl Marx.
Gotta stop here for tonight.
*****

Strauss's Life of Jesus, sought to establish a historically credible picture of Jesus, devoid of all supernatural attributes, a major initiative in the never-ending so-called quest for the historical Jesus, which has always meant the "quest for a Jesus without miracles." These quests are by their very nature condemned to be unsuccessful, except in the eyes of their their authors.
Historically, there are no accounts of Jesus that do not associate him with miracles in some way; at a minimum they report that his disciples were convinced that he did miracles. Consequently, such a search must do the one thing that historians should never do: establish hypotheses apart from documentary support.
From the point of view of the gospel narratives, eliminating the supernatural elements robs their plots of any meaningful motivation. It would be like Treasure Island without pirates or Moby Dick without a whale--unless one makes up a whole new story that, even though it has no historical source, trumps the story based on the historical sources. Questors such as Strauss have typically done exactly that.
The result is then, as it was with Strauss, a work of history that violates the most basic principles of historical writing. Still, as I keep reminding myself and you, many people who have adopted a world view that prevents them from accepting anything supernatural, will prefer to indulge in irrationality to whatever extent it is necessary in order to protect their assumptions.

I used this expression, "Supper is Served," as the title for my paper at Trinity's first-ever-though-eventually-hatcheted Conference on Philosophy of Religion, to which Norm Geisler had graciously invited me as a presenter. (I think that particular series of conferences lasted about seven or eight years, and I may have attended all of them, a number of them with some of my best students at the time.) This was my second-ever public paper presentation, and I had culled material from my dissertation, which I was about to defend a few days later. The other person on the program was the celebrated Alvin Plantinga, who at the time was promoting his version of the Ontological Argument and the earlier stages of his so-called Reformed Epistemology. Listening to my exposition of Hegel, he found Hegel's argument concerning Being and Non-being, as I described it earlier in conjunction with Hegel's Logic, to be absurd, and I could not get him to follow the logic, which seems clear to me, even if one doesn't share the premises or want to accept the conclusion. However, I can't claim that--at least at the time--I totally followed Plantinga's arguments either. I understand that for years afterwards, when Dr. Plantinga accidentally misspoke in class and unintentionally said something that struck him as contradictory, he would say, "Whoops! I just pulled a Hegel." I do not know whether my presentation was what initiated his use of that little witticism.

One may wonder why, if Lindquist is right (and I think he is), this description of Findlay is not widely understood, and he has been taken more seriously than he probably deserves. I'm thinking here not just of his peers in the academy, but the Christian philosophers, who ever-so-agonizingly felt the need to respond to Findlay decades after he had written his anti-theistic material. The answer probably lies in the fact that theosophy, the "poor person's adaptation" of Advaita Vedanta, had gained, and to a great extent still holds a respected place in Western thought. In its original and proudest form, starring Madame Blavatsky and her accomplices [sic!], it made up for the lack of philosophical refinement, as we find it in, say, Shankara's writings, by inserting large components of magic and the occult. That's why I said that Lindquist's epithet may be somewhat redundant. Stripped of the most bizarre elements, it has managed to establish itself as the supposed philosophia perennis in human thought, and has thus carried the intrinsic authority of something untainted by the authoritarian Church. (Let's all join in rejecting conformity!) Some notable writers who have represented philosophical theosophy were W. T. Stace (sane) and Aldous Huxley (sanity not yet certified). Theosophy has become the standard description of mysticism to the point where other forms of mystical thought or experience are considered to be "less authentic." For a more extended discussion of this issue and others connected to it, please see my Mysticism: An Evangelical Option?. Furthermore, at a time when being an orthodox Christian was definitely an exception, if not a peculiarity, in English-speaking philosophy outside of the Catholic schools, Findlay positioned himself on the accepted side of the ledger. What he called his "rational mysticism" was atheistic and stridently anti-Christian. He even managed to link up with the cluster of post-verificationist positivists by supplying his "ontological disproof of God's existence" in Flew and MacIntyre's New Essays in Philosophical Theology (London: SCM Press, 1955), pp. 47-75. This article, whose basic strategy was to create and then criticize an equivocation where there wasn't one, may have served as his ticket for the acceptance of his other writings in some circles.