Finally, I'm ready to bring this series to a close. As I said earlier, as long as the faucet is producing potable water, I will leave it open to flow. In my humble estimation, from hereon out the water may still be fit for drink, but it would be starting to drip. So, after several abortive attempts turn the handle to "off," this will be it. ---That is, as I always stipulate, unless there is a serious question or comment requiring an entry-long response, which would be fine with me.
My over-all major point has been very simple: The only way to understand Hegel properly is to understand him as a transcendental philosopher in contrast to a metaphysician. Whereas a metaphysician asks, "What is the world like?" or "What is being?" or "What is reality?", the transcendentalist asks, "What are the conditions that make knowledge of reality possible and certain?" Their answers may look very similar (cf. the systems of Scotus Erigena and Hegel's system), but they arrive at them very differently, the metaphysician (at least in the best cases) beginning with the fact that something exists, that there is being, the transcendentalist with the heuristic assumption that we can have knowledge of something existing, or that we believe that there is being. Skipping over all of the intervening explanations, digressions, and personal anecdotes, there are two points delineating the bottom line: 1) Ignoring the transcendental nature of Hegel's methodology will lead to a truncated and distorted understanding of his writings; 2) The use of the transcendental method, all protests notwithstanding, permanently divorces Hegel's philosophy from being able to make positive objective assertions concerning reality, except by accident insofar as his transcendental deduction (the dialectic logic of the system) leads him to such a point. You cannot attain metaphysical truth if you do not begin with a metaphysical intent. One can either lament this assessment as a defect in the system or accept it as a price worth paying (I would take the former option), but one simply cannot regain that from which one has intentionally detached oneself as one's starting point--the chronic disease of all modern philosophy.
This apparent deficiency (or intentional forteiture), becomes particularly clear in the context of Hegel's thought in relation to Christian theology. This issue was obscured somewhat by the historical frenzy in the aftermath of Hegel's death, where the Left Wing Hegelians interpreted him as a virtual atheist and went on from there to stretch the alleged anti-Christian premises in Hegel's thought to extreme conclusions. In contrast to them, Hegel himself and the Right Wing of his followers can be thought of as "conservative" and, possibly even, as "orthodox and trinitarian." However, this characterization is true only by contrast, not by historical standards of biblical orthodoxy. Hegel's God, by virtue of being embedded as one of the "categories,"--a shape of consciousness--of his self-sustaining system, which is grounded in transcendental subjectivity, can only be described as "panentheist," viz. a scheme according to which God and the world mutually depend on each other. His trinity carries an important speculative function in the system, but it is not the God of the Bible, as described in the creeds of Nicaea and Chalcedon.
So, what do I personally, your Thomistic bloggist, see in Hegel?
As some of my students remember my having said in class once, I admire it as I would admire a beautiful pagan statue.
But more than that, given the unquestionable strong influence of Hegel on the last two centuries--some of it restricted to the speculative realm, some of it receiving practical (and usually unjustified and unjustifiable) application, Hegel is one of the many important figures of the history of Western thought whom I must know, and whom I must try to understand. He is said to be of particular influence in providing the philosophical undergirding of a number of theologians. Sometimes this is true; sometimes it isn't. I need to understand the theologians, and so I need to be able to discern their philosophical assumptions, and thus I must be able to recognize the presence of Hegelian thought in their writings.
In trying to understand the nature of our present-day culture, I must be aware of its philosophical roots. And if I should engage in such intellectual archaeology, then I should do so with awareness of the turf in which I am digging.
Thus, if I were to claim that contemporary relativism arose from Hegel's dialectic, I should be sure that I understood the dialectic correctly--and I would not.
If I asserted that Hegel's philosophy was the fountainhead of various forms of totalitarianism, I should be certain that this statement would be consistent with Hegel's own writings--and it would not be.
If I intended to hold Hegel's political philosophy responsible for the wars of the twentieth century, I should make that accusation only if I had strong grounds for doing so--and I would not be able to find them.
In short, accuracy in the history of philosophy is worthwhile for its own sake, it seems to me. But in particular, to point out the obvious, if I'm trying to find the cause of one or more phenomena in contemporary thought and settle on the wrong one, I'm missing the right one. As obvious as that observation sounds, some contemporary writers appear to shrug it off with the excuse that, since there is no scholarly unanimity, and since Hegel has been singled out as the "culprit" so many times anyway, there is no harm in keeping one more issue at his doorstep [references on request at my discretion]. Aside from the dubious nature of such "scholarship," this attitude is lethal to any further advance in cultural analysis. Any subsequent attempts to correct a problem that has a distinct philosophical origin are going to founder because we have identified the wrong cause to begin with. For example, when Francis Schaeffer named Hegel as the "doorway" to philosophical despair (
The God Who Is There
, IVP, 1967), by which he meant that his "synthesis" led to relativism, which, in turn, led to skepticism, he did more than misrepresent Hegel; he directed the attention of his readers to the wrong person and, thereby, made them miss the right person to blame. (Who was it who gave himself an exemption from the law of contradiction? Do you remember? It was not Hegel.)
I need to clarify one more point before listing some books. As I think we have seen, in Germany, the philosophy of Hegel was invoked and mutilated by the Left Wing Hegelians, with Hegel's own thought being left behind in the library stacks. As Andrew Seth (later called Andrew Seth Pringle-Pattison) disovered, by the end of the nineteenth century, true Hegelianism in Germany was no longer a part of the larger philosophical conversation. [Andrew Seth, From Kant to Hegel (London: Williams and Norgate, 1882).] As American philosophy was emerging, it assumed its celebrated pragmatic character, which had little use for Hegel's cosmic deliberations. The French were struggling with their own issues, which eventually led to the preeminence of Bergson--as well as the Neo-Thomisitc revival guided by Jacques Maritain and Etienne Gilson (whom I still admire, despite his absurd treatment of Hegel). However, in England, particularly at Cambridge University, idealism became a powerful school for a time, and a number of these idealists, e.g. John McTaggart (1866-1925), made heavy use of Hegel's philosophy. However, they presented Hegel's thought as based on a very rigid logical methodology (thesis-antithesis-synthesis), which did not dovetail with Hegel's own writings, and which deprived Hegel's thought of its creativity and, quite frankly, of interest. If the Hegelianism of the Cambridge Idealists reflected Hegel's philosophy, I would never have been fascinated by Hegel. Still, I needed to identify this school because in my subsequent notes, I will refer to it at times.
What follows is an informal bibliography with comments and evaluations. As everyone knows, my scholarly pursuits have led me in different directions since I wrote my Ph.D. dissertation on "Elements of the Transcendental Method of G. W. F. Hegel in the Theology of Karl Rahner" (Rice University, 1977). At the time, there were few books on Hegel in print in English, and a new appraisal of Hegel was still in its early stages; his major books had been translated into English, but frequently manifested dubious subtexts. Today there are exponentially more books and articles on Hegel, though I'm not entirely certain that the situation concerning the accuracy of the translations is all that much better. What follows is a personal bibliography that may be a bit out-dated. It includes a number of books that have been helpful to me, but which would not necessarily be found in other listings. But that's okay. This is neither a competition nor an exercise in copying one list of books from another. For example, there is a good bibliography attached to the article on Hegel in the Stanford Encyclopedia of Philosophy, and I urge you to consult it. Here's mine:
Hegel's Works
How many books did Hegel write? In German, there are two collections: the shorter Suhrkamp edition has twenty volumes. The Meiner edition, not yet finished, will have more than that. But the true answer is actually "four."
The Phenomenology of Spirit,
The Science of Logic,
The Encyclopedia of Philosophical Sciences,
The Philosophy of Right.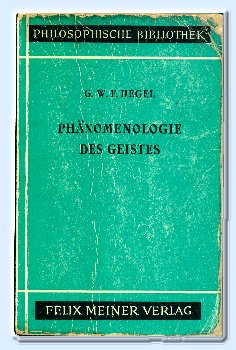 Works such as the History of Philosophy or the Philosophy of Religion are based on the lecture notes from quite a few students, assembled by his son Carl. We can be sure that they reflect what Hegel said in his lectures, particularly since his style was slow and ponderous, giving the students ample time to copy his utterances, but Hegel did not publish those books. Also, in some cases the work takes up three volumes where one might suffice. This is true, for example, for the Encyclopedia. The reason is that its content has been greatly expanded by supplements from the students' notes. So, at present we have two collections of all of his writings in German:
Gesammelte Werke, Rheinisch-Westfälische Akademie der Wissenschaften, ed., Hamburg: Felix Meiner Verlag, 1968–. This series represents the restart of a restart. It originated prior to World War II, when Felix Meiner still published books in Leipzig, which became a part of "East Germany." After the war, he was able to pick up the pieces in Hamburg, but then his successors decided to start afresh with a complete critical edition. ("Critical" here means making double-sure of the accuracy of the text and being aware of possible significant variations in printed editions or even manuscripts.
Werke in zwanzig Bänden, Moldenhauer, Eva and Michel, Karl Markus, ed., Frankfurt am Main: Suhrkamp Verlag, 1971. The difference to the Meiner edition is primarily that this collection is not "critical." However, it is much less expensive, sufficiently accurate for any but the most refined purposes, and has served me well, though my copy of the Phenomenology comes from the 1952 Meiner collection.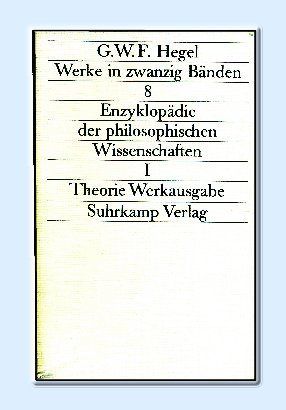 As indicated above, the translations into English still appear to me to be sporadic and uneven. I won't make reference to all of them.
Phenomenology of Spirit, trans. A. V. Miller, Oxford: Oxford University Press, 1977. At this point, this seems to be the preferable one of the various translations, but I have been surprised by Miller's phrasings quite a few times.
Hegel's Science of Logic, trans. A. V. Miller, London: Allen and Unwin, 1969.
Elements of the Philosophy of Right, ed. Allen W. Wood, trans. H. B. Nisbet, Cambridge: Cambridge University Press, 1991.
The Encyclopedia has been translated and published in three parts: Logic, Nature, Spirit (Mind).

The Encyclopedia Logic: Part 1 of the Encyclopaedia of Philosophical Sciences, trans. T. F. Geraets, W. A. Suchting, and H. S. Harris, Indianapolis: Hackett, 1991.
Philosophy of Nature (Part Three [sic!] of the Encyclopaedia of Philosophical Sciences), trans. Michael John Perry, 3 vols, London: George Allen and Unwin, 1970.
Hegel's Philosophy of Mind: Being Part Three of the Encyclopaedia of Philosophical Sciences, trans. William Wallace, Oxford: Clarendon Press, 1971.
I assume that under Philosophy of Nature, the "Three" is supposed to be "Two."
Biographies of Hegel
In 1844 Johann Karl Friedrich Rosenkranz published a thorough biography of Hegel in German. More accessible to us today:
Walter Kaufmann, Hegel: A Reinterpretation. Garden City, N.Y: Doubleday Anchor, 1966. This book had a great amount of impact on the study of Hegel in the English-speaking world because Kaufmann had a broad, popular appeal, and his voice denouncing the interpretation of Hegel along the lines of dry, logical schemata was heard. The book contains a collection of Hegel's letters. Its original hardback version also included a new translation of the preface to the Phenomenology, but when the paperback version came out, it was published simultaneously, but separately, under the title of Hegel: Texts and Commentary. Kaufmann's book is a somewhat rhapsodic treatment of Hegel. Having found liberation from the chains of formalism imposed on Hegel by the British idealists, thanks to the German scholar, R. Kroner, he resolutely refused to let Hegel be bound anew by anything systematic. Allusions to the intellectual world surrounding Hegel abound, but there is no attempt to establish a principle of coherence in Hegel.
Franz Wiedmann, Hegel: An Illustrated Biography, trans. Joachim Neugroschel. N.Y.: Pegasus, 1968. A short, readable study that is not exceptionally philosophically oriented, but provides far more details than Kaufmann's book.
Secondary Works
W. T. Stace, The Philosophy of Hegel. N.Y.: MacMillan, 1924. An overview of Hegel's system, as distilled by the cream of British scholarship. It even includes a fold-out chart, sized ca. 20" x 14", depicting the entire system (essentially a collation of the table of contents of the Encyclopedia).
J. N. Findlay, The Philosophy of Hegel: An Introduction and Re-examination. N.Y.: Collier, 1958. A new understanding of Hegel for sure. Influenced by Findlay's links to theosophy. He modified his interpretation somewhat in the article that we shall list below.
Hans Küng, Menschwerdung Gottes: Eine Einführung in Hegels Theologisches Denken als Prolegomena zu einer künftigen Christologie. (Freiburg: Herder, 1970). ("The Incarnation of God: An Introduction to Hegel's Theological Thought as Prolegomena to any future Christology"). A detailed study by the famous Roman Catholic theologian of Hegel's philosophy. Its object is to make the case that a static view of God as immutable and impassible needs to be replaced by a view of God as responsive and changing, which Küng sees in Hegel.
Hegel: A Collection of Critical Essays, ed. Alasdair MacIntyre (Garden City, N.Y.: Doubleday Anchor 1972). This anthology of articles spans the spectrum of views on Hegel, but it includes some of the most important pieces on Hegel written in the last century. The following are the essays in this collection:

J. N. Findlay, "The Contemporary Relevance of Hegel." In this essay, Findlay backs off from his earlier, almost purely intuitive, view of Hegel's system and takes steps in the direction of a transcendental reading of Hegel.
Walter Kaufmann, "The Hegel Myth and Its Method." Kaufmann's refutation and indictment of Karl Popper's treatment of Hegel in The Open Society and Its Enemies. Must Reading!
Walter Kaufmann, "The Young Hegel and Religion." Why did Kaufmann get two essays in this book? I'm puzzled because I'm not sure I really understand what Kaufmann was trying to prove in this article, other than that Hegel progressed to a position where he gave philosophy a higher place than religion.
Klaus Hartmann, "Hegel: A Non-Metaphysical View." A strong defense of the transcendental ("categorical") understanding of Hegel. Almost too strong; Hartmann insists on the connection between the "categories" of the system and reality, but he does not seem to be entirely convincing. In fact, I would suggest that the transcendental view of Hegel is best defended by admitting its liability, viz. the gap between the transcendental system and being. One cannot develop a metaphysics from anti-metaphysical premises. Must Reading!
R. C. Solomon, "Hegel's Concept of Geist." An essay that seems almost pedestrian for the first few pages and then grabs you, making the strongest case for the transcendental approach to Hegel yet. Must Reading!
Charles Taylor, "The Opening Arguments of the Phenomenology." Taylor is comfortable with a transcendental approach to philosophy (and aware of its potential shortcomings), which turns this article into a very helpful tour of the beginning of the Phenomenology. Must Reading!
George Armstrong Kelly, "Notes on Hegel's 'Lordship and Bondage.'" As I said much earlier in this series, it is a huge mistake to take Hegel's parables (such as "master" and "slave"), which actually merely illustrate epistemological concerns, into essays in sociology. Nevertheless, the idea that the slave has more freedom than the master has been irresistible as a separate topic for myriads of writers, most prominently Marxists. This metaphor is certainly a clever idea on an important topic, but we should not read this segment of Hegel's Phenomenology as though it were intended to be primarily an essay on this important topic rather than a catchy illustration. Kelly cannot quite decide which reading is preferable: the systematic transcendental one or the social commentary one.
Alasdair MacIntyre, "Hegel on Faces and Skulls." MacIntyre wades into Hegel's treatment of the alleged science of phrenology, an important discipline in his day.
Michael Kosok, "The Formalization of Hegel's Dialectical Logic." A most ingenious article, applying symbolic logic to Hegel's method of negation, developed in great detail and at great length. Very interesting to follow Kosok's innovations. Downright brilliant! Unfortunately completely off the mark in terms of Hegel's actual method. A throwback to the days when philosophers, such as McTaggart, assumed that Hegel had a unique formal logic, completely out of sync with a transcendental approach.
Richard L. Schacht, "Hegel on Freedom." A good example of how to use an unwarranted (metaphysical) approach to Hegel, and still come out with something very good and positive. Argues against Hegel's supposed support of totalitarianism.
Shlomo Avineri, "Hegel Revisited." Methodology is irrelevant in this essay since it deals with Hegel's legacy, particularly his appropriation for various philosophical views. Shows how the mature Hegel, rightly or wrongly, thought of Prussia as a constitutional monarchy, a view that was held against him by both conservatives and liberals subsequently . In this essay Avineri alludes to how great a role anti-Semitism played in politics during Hegel's time, both inside and outside of the academy, with Hegel going out on a limb by rejecting this form of prejudice.
That's it. Hope it helped. Any questions?