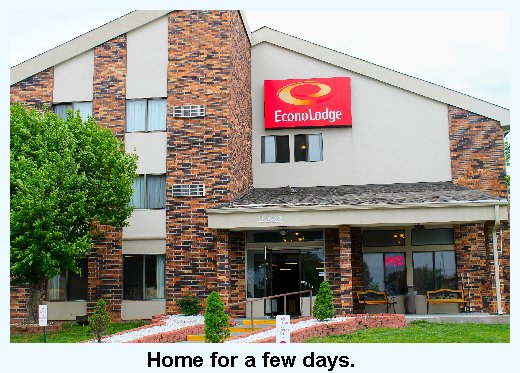 It's late Friday evening, and I'm writing to you from an Econolodge in Kansas City, near Midwestern Baptist Seminary, this year's location for the annual conference of ISCA, meeting together one more time with EMNR. It's been a good conference so far in many ways, though it's obvious that there are two different organizations, one more academically oriented, one more practically, outreach-oriented.
A quick rundown on this week. On Monday I had my last meeting with my faculty discussion group at Ivy Tech. I felt like we had just gotten started. It definitely was a good handful of faculty members, each of whom was enjoyable and open in discussion. Then Monday afternoon June and I went to our accounting firm to sign our tax documents and ran all kinds of errands.
Tuesday was basically loading and packing day. By "loading" I mean putting boxes of back issues of JISCA on a pallet, wrapped in a tarp, on the bed of the Dodge Dakota. We've been trying to sell them here at a great discount, but--alas--business has not been good so far. Presumably most of the people here already have those volumes. I really dislike the idea of carrying them all back again to Indiana. Maybe there'll be a run on them tomorrow.
Wednesday we drove to Kansas City. 540 miles--not a huge distance on the whole, but exceeding my personal limit these days. However, doing it all in one day was the only reasonable option. I drove all the way, and we only made two short breaks, once at a rest area, and once at a gas station. Adjacent to the gas station was a Waffle House, where we had a quick lunch. So we managed to dispense with the Waffle House tradition for this trip as well.
Then on Thursday, around noon I needed to drop off the boxes on campus for a display later. Then, in the afternoon, we had an ISCA executive committee meeting, which went quite well. Everyone was pleased to see the proofs of the journal and was glad to hear that it would be shipped pretty soon.
On Thursday evening, Norm Geisler gave a lecture on "How Naturalism has Usurped Science." Norm was at his best. He showed how the so-called founders of modern science, e.g., Bacon, Newton, Galileo, etc., all professed belief in a Creator, but then allowed that belief to be displaced by a naturalistic methodology in the wrong places, which eventually contributed to eliminating the idea of a Creator from science. Norm distinguished between two kinds of science: origin science and process science, e.g., cosmogony vs. cosmology, anthropogony vs. anthropology, etc.. Process science is the discovery of the laws of nature and their interaction, and to insert a Creator into that phase is to introduce a deus-ex-machina or God of the Gaps, a mistake made frequently as science developed. The place for God is at the point of origin, where, like it or not, the scientist becomes a metaphysician, and frequently does so with untenable hypotheses. Then Norm spoke from his own experience at the 1981 Louisiana trial, the obvious bias of the judge presiding, and the confusion of the later Supreme Court ruling on creation. It was a good presentation.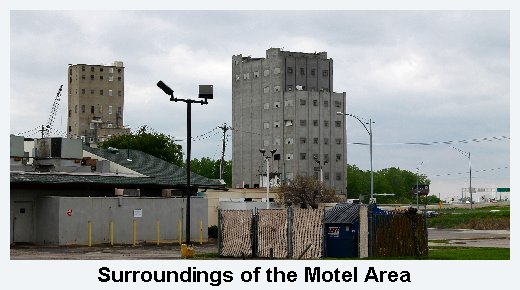 Oh yeah, there was a moment of real self-consciousness before the lecture during preliminary announcements and introductions. Dr. Robin Hadaway, the interim president of Midwestern Seminary asked if "Dr. Corduan" was in the audience. I stood up and acknowledged my presence. I think he may have expected someone a little more towards the Professor Ned Brainard side (anyone: which movie?) than the Henry Jones, Jr. side in appearance, but, hey, the world continues to be my research field, and one has to maintain one's image. Anyway, he then briefly recognized me for Neighboring Faiths and what a good book it has been for one of their courses in the seminary. Awesome moment. Humbling for sure. Thank God for any way he has used me to advance his work!
Then today I got to live out the fantasy I had dreamed of for the last two years; I held my class in "Beginning Sanskrit" at ISCA, just as I had promised to, though not sure if it would really work out. As it turned out, I had five solid "students" who stayed the entire three sessions (each one being 75 min.'s) and stuck it out as I presented the Devanagari alphabet and all of Sanskrit's wonderful complexities. Well, not nearly all of them, but a few of the obvious ones. Sanskrit is a language with a lot of rules and few exceptions to the rules--to a great extent because most exceptions have been turned into rules in their own right. June was also present and participated, as well as Scott M., who videoed the entire set of sessions. Those videos will become a part of the course at Veritas Evangelical Seminary. I don't know to what other purposes they'll be put. Those who went through today's sessions with me have the option of continuing learning Sanskrit as an extension course through Veritas or simply in correspondence with me or as an independent study arranged through their own institution. It makes little difference to me how we do it officially; what I'm hoping is that in some way today's participants will continue working on Sanskrit, and I will assist them in any way I can.
As I said, doing this was something that I had really, really hoped for, beginning with my rash promise in my presidential address two years ago. As I've said on this site so many times, evangelical Christians who are serious about apologetics vis-a-vis other religions really need to study those religions thoroughly, and, ultimately, that involves knowing the basic languages involved, particularly Sanskrit for South Asian religions. Reliable sources reported to me a general consensus that I was, shall we say, "disoriented" to even try something like this at a conference, though they allowed me to do it. As June put it, a lot of people may have underestimated the desire on the part of some evangelical scholars to really deepen their studies and get behind the stereotypes of other religions. I am truly excited that it came off and I thank the Lord for letting me take this one small step in the direction I'm envisioning, viz. evangelical scholars, without chipping away at their convictions, engaged in rigorous study of world religions, particularly Eastern religions. The ultimate goal will, of course, always be apologetics and evangelism, but I'm thinking of a time when those tasks can be undertaken on a more thoroughly informed basis than is presently the case most of the time.
I have the next step already planned out in my mind. The short-lived M.A. in Religious Studies at Taylor could have fulfilled that goal, but my having to go on disability, combined with other factors, did not allow that program to persist. This time step two should be possible even with my disability, and I do not think that similar other factors will become detrimental. More details when those things are a little more concrete.
Needless to say, teaching for that length of time pretty much wore me out. Right afterwards, June and I went back to the motel, where I took a little rest. Then we went back on campus just in time for an executive committee meeting and a full business meeting. We had intended to stay for a plenary address, but I found myself collapsing, so we headed back here.
For what it's worth, let me state definitively the answer to a question various people keep asking me, and apparently I haven't acknowledged clearly. Yes, I am writing a book-length treatment on original monotheism. The manuscript deadline for Broadman-Holman is August 1st, and so it should come out early in 2013.
I'll add some pictures tomorrow. For now, it's definitely time to sleep.